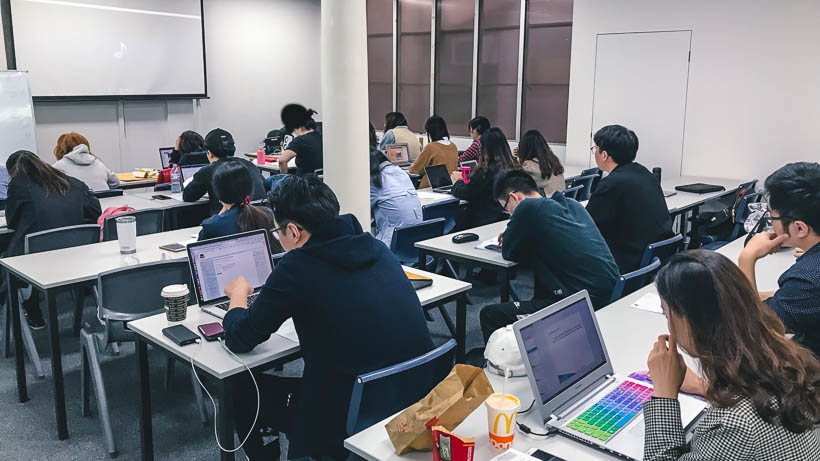 Diploma of Interpreting (LOTE-English)
The Diploma of Interpreting provides foundation skills for new entrants to the interpreting industry. It reflects the skills and knowledge required to interpret in general dialogue settings, with the potential to interpret in general monologue settings, where the interpreter is able to physically control the discourse to assist retention and recall.
This qualification is available in the following languages:
Mandarin to/from English
Spanish* to/from English
Bangla* to/from English
* The availability of these languages is subject to change.
Duration
26 Weeks
National Code
PSP50916
CRICOS Code
095447E
Delivery Mode
Face-to-face: 15hrs/week
Online: 5hrs/week
Tuition Fee
$5,000
Materials Fee
$600
Enrolment Fee*
$200
*Non-refundable
Course Structure
Qualification Packaging Rules:
Seven core units and five elective units of competency must be completed successfully to achieve the qualification.
Core Units of Competency
PSPTIS001 – Apply codes and standards to ethical practice
PSPTIS002 – Build glossaries for translating and interpreting assignments
PSPTIS003 – Prepare to translate and interpret
PSPTIS040 – Interpret in general dialogue settings (LOTE-English)
PSPTIS041 – Interpret in general monologue settings (LOTE-English)
PSPTIS042 – Manage discourses in general settings
PSPTIS043 – Use routine subject matter terminology in interpreting (LOTE-English)
Elective Units of Competency
BSBDIV301 – Work effectively with diversity
PSPTIS044 – Demonstrate routine LOTE proficiency in different subjects and cultural contexts
PSPTIS045 – Demonstrate routine English proficiency in different subjects and cultural contexts
PSPTIS047 – Use routine health terminology in interpreting (LOTE-English)
PSPTIS048 – Use routine legal terminology in interpreting (LOTE-English)
Entry Requirements
All applicants must be at least 18 years old and have successfully completed Year 12 of secondary education or its equivalent or have appropriate and relevant experience.
English proficiency requirement:
Applicants must demonstrate proficiency in English with one of the following requirements:
IELTS overall band score 5.5 with a minimum score of 6 in the speaking and listening components
An upper intermediate level certificate by having successfully completed an English program within an English speaking country
An entry test, consisting of two dialogues at/or equivalent with the level of provisional interpreter to demonstrate adequate competency in both English and a language other than English as part of the enrolment process.
Pathways from the qualification
After achieving this qualification, students may undertake the Advanced Diploma of Translating at AIC or the Advanced Diploma of Interpreting at other institutions. Articulation into programs in higher education may be possible.
Career Opportunities
Employment in interpreting varies with the market for interpreting in particular languages and domains. This diploma prepares interpreters for work typically in community and business domains such as general health, welfare and community services, non-complex disability assistance, educational and social contexts, initial police interviews, over-the-counter interviews in customer and community information services, tourism, and other informal business and workplace contexts where the consequences of errors in communicative intent can be readily managed.

The majority of interpreters are self-employed and are contracted on a sessional basis either directly or through interpreting service providers to work on interpreting assignments, but may find permanent employment in a specific sector such as education, government or health, or may work with a diverse range of clients and sectors. Interpreters may be contracted to work in a team.