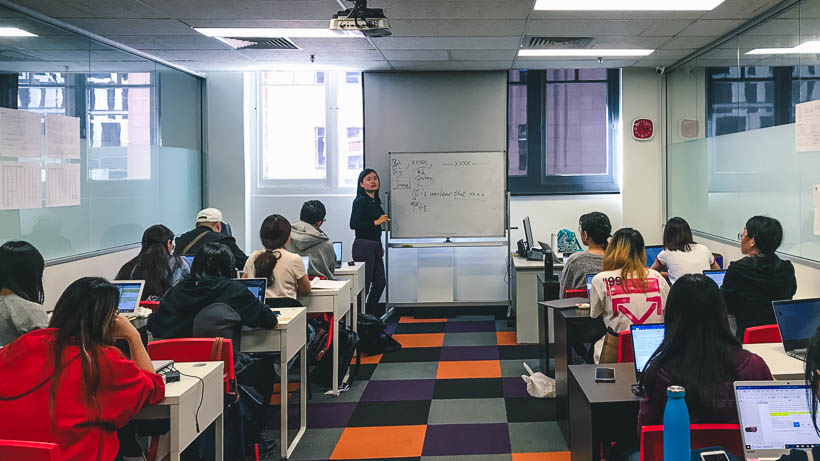 Advanced Diploma of Translating
This qualification reflects the skills and knowledge required to translate special purpose texts from one language to another to convey information written using specific terminology for a specific audience. The qualification is designed for people who translate at the professional level in areas such as banking, law, health, social and community services.
This qualification is available in the following languages:
English to Chinese
English to Nepali*
English to Bangla*
* The availability of these languages is subject to change.
Duration
26 Weeks
National Code
FNS30317
CRICOS Code
099402G
Delivery Mode
Face-to-face: 15hrs/week
Online: 5hrs/week
Tuition Fee
$5,000
Enrolment Fee*
$200
*Non-refundable
Course Structure
Qualification Packaging Rules:
Five core units and eight elective units of competency must be completed successfully to achieve the qualification.
Core Units of Competency
PSPTIS100 – Apply codes and standards to professional judgement
PSPTIS101 – Negotiate translating and interpreting assignments
PSPTIS060 – Analyse text types for translation of special purpose texts (LOTE-English)
PSPTIS061 – Quality assure translations
CUAWRT401 – Edit texts
Elective Units of Competency
PSPTIS062 – Translate special purpose texts from English to LOTE
PSPTIS064 – Read and analyse special purpose English texts to be translated
PSPTIS067 – Demonstrate complex written LOTE proficiency in different subjects and cultural contexts
PSPTIS002 – Build glossaries for translating and interpreting assignments
PSPTIS066 – Apply theories to translating and interpreting work practices
PSPTIS069 – Maintain and enhance professional practice
SITXLAN005 – Read and write information in a language other than English
PSPTIS071 – Translate multimedia source material
Entry Requirements
Applicants must be at least 18 years old and
have successfully completed a degree or diploma in any discipline or hold a paraprofessional translator qualification accredited by NAATI or have substantial experience in translating.
English proficiency requirement:
Applicants must demonstrate proficiency in English with one of the following requirements:
An IELTS overall band of 5.5
Complete a recognised degree or diploma or equivalent in any discipline from an English speaking country
Undertake an entry test, consisting of revision of a non-specialised translation and translation of a non-specialised text to demonstrate adequate competency in both English and LOTE (Language other than English) as part of the enrolment process.
Pathways from the qualification
After this qualification, students may be eligible for credit against a university degree in translation.
Career opportunities
Employment in translating varies with the market for translated material in particular languages and domains. The majority of translators are self-employed and are contracted either directly or through translation service providers to work on translating assignments. Translators may be contracted to work in a team and may be required to provide quality assurance checks on the work of other translators.